I think the Tuesday Morning after a Long 3 Day Weekend is worse than any possible Monday. Why? Why ask why, it just is. Can I stay under the covers please?
NOW add in the All Things Grump Factors.
WBFO woke me up on this lovely Tuesday Morning after a Long 3 Day Weekend with the following news stories.
1. Blah, blah, blah…weather…blah…HIGH 90 DEGREES!
Heat, Haze, Humidity. Three of my least favourite words. And to think the heat was on last week. Whatever happened to SPRING? This Winter Cold Weather girl needs a transitional season to make it more bearable.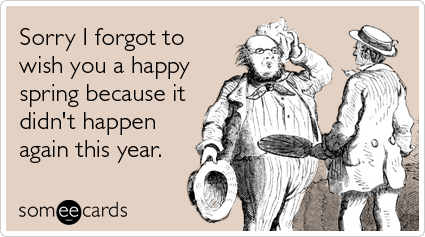 2. Blah, blah, blah…TOO OLD TO HAVE BABIES…TOO POOR ANYHOW!
Thank you Morning Edition for this lovely wake-up call reminder. (Literally.) Ugh.
Egg Freezing Puts The Biological Clock On Hold
By the time a woman hits her 40s, 90 percent of her eggs are abnormal. The chances of a typical 40-year-old getting pregnant in any given month? Ten percent.

One 40-year-old says she wishes she'd learned about egg freezing earlier. Esther Montoro, a 37-year-old photographer, looks a little stunned. "I think it's fantastic," she says, "but I think it's so incredibly expensive." The whole process — a week of hormones, plus the procedure to collect the eggs — runs $12,000 to $14,000. And because it takes 10 to 20 eggs for a reasonable shot at success, some may need to do this several times. Plus, there are annual storage fees. Then, when you're ready to use your eggs, you'll need in vitro fertilization, another pricey procedure. All told, costs can easily exceed $40,000, money Montoro doesn't have.