You are currently browsing the tag archive for the 'Politics' tag.
REALLY?
NEW: Ohio remains too close to call as Mitt Romney and Santorum duel
The year is 2012 and RICK SANTORUM might win the Ohio Republican Primary?
Wow.
I'm no fan of any of these candidates but I would vote for Mitt Romney 1000 times before RICK SANTORUM.
I thought those were the kind of Republicans that lived in Ohio.
Wow. I changed my voter registration just in the nick of time.
I've been with you since 1992.
And as of reading this article Santorum Takes the Lead in Ohio…I'm filling out this form.
Not sure I can commit to Libertarian yet, so I'm going with I DO NOT WISH TO ENROLL IN A PARTY instead.
I quit. I'm finally after all these years, completely embarrassed by you.
Love,
All Things Jennifer
I've been so disappointed and disenchanted with the Republican Party candidates. Who are you people? Where do you come from because most of you certainly do not represent the majority of Americans I know.
I've tuned out the debates because, well, obviously for some reason Romney is the one who was anointed years ago and it is his time to be the candidate. I wish there was a better option, heck I wish there was anyone else as a viable option, but there isn't.
And so it goes.
IOWA- Oh people of IOWA, the fact that even you, the proud caucusing state of IOWA picked Romney means there is a lack of candidates to choose from. And the fact that Rick Santorum TIED the anointed one? Well, this confuses me as a citizen…but as a Poli Sci girl who loves the game it doesn't surprise me at all. I heard the sound bites…that man had his game on and shook every single hand he came near. If you knew little about the man and his politics and never ever had access to the internet to search for his name along with oh, let's pick a word for fun…bestiality? Anyone with extreme views like this man should never be considered for office…and yet, well, God Bless America and the freedom for crazy people with lots of money to run for President, right? I would have liked Ron Paul in second, but…again IOWA. (And crazy.)
NEW HAMPSHIRE – Romney wins. Surprise, surprise. Huntsman played the politics game skipping over Iowa and shaking 27 more hands than his opponent in NH to come in 3rd. And Ron Paul in 2nd. And as much as I might agree with some views of Ron Paul and Newt Gingrich, they are not electable. Geez, I don't even think RomneyBot has a chance and he is light years above the other Republican candidates.
What world do we live in when I think Mitt Romney is light years more electable than the other Republican candidates. Sigh.
From January 2008: "Oh, just please please please please let it be not Romney. I don't know what it is. Personally, he smacks me as the Republican John Kerry and that just can't be a good thing." (Ha, I was a fiesty blogger back then, much more mellow these days…)
Who the hey-diddle-diddle am I going to vote for this year? (Not that my vote matters anyhow, I live in NEW YORK.—Gosh I wonder what it's like to live in a state where my Republican vote could actually mean something?)
SOUTH CAROLINA-(enter Sarah Palin to save the world?) That would be a very reality TV type ploy, eh?
WHAT DO YOU THINK?
All I'm wondering now is…WHO DOES MITT PICK AS HIS #2?
Hmmmmm……………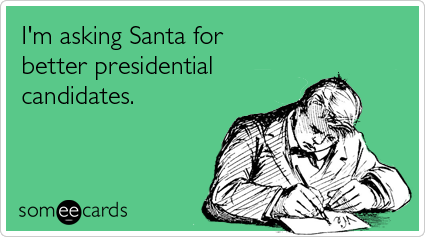 I can't believe it is almost time for the straw poll and I could CARE LESS ABOUT ANY OF THE CANDIDATES I'VE BEEN HEARING ABOUT FOR THE LAST TWO YEARS.
Coming from a Political Science gal, this is exceptionally sad.
These words just made me cry…I'm so proud of NY State! Great post John!
Sports and Politics in Buffalo: More Than a Game
I couldn't help but notice a tweet from someone I have known to be quite a sports fanatic. "Gay marriage is so much more important than the new Bills uniform!" He tweeted. He is also straight, by the way. And most of my tweeps are straight. A majority of them are probably under 40, many even under 30, and that is significant. They are fanatical, passionate Buffalo sports fans, Buffalo fans period. But they are also fans of the underdog, of justice, of equality—and have their priorities in the right place.

Riding to victory on my senator's back, I think I may have just lived through the biggest victory of any kind to come to Buffalo in my lifetime and it feels really good. I have a feeling it feels at least a tiny bit better than even a Stanley Cup would feel, though I'm hoping to have the opportunity to compare those feelings sooner rather than later.
I've been a registered Republican in the great state of New York since I was first able to vote in 1992.  I've been a member of the Erie County Young Republicans and a Committee Member for the Erie County Republican Party.
And as of tomorrow, 19 years later…without the act of calling to vote the same-sex marriage bill in the New York State Senate, I will be changing my party.
I've finally reached the breaking point. I'm ashamed by your lack of leadership and your cowardice. And trust me, I've been disgusted by my party way more times than I can count over the years. PRIME EXAMPLE—endorsing this candidate.
Who am I kidding, I might as well change it now. I'd much, much rather be disappointed by the chance that my State Senator Mark Grisanti voted NO. At least bring the issue to a vote. What are you so afraid of—oh wait, that it might PASS?
Here's a newsflash…sooner and hopefully not later, it's gonna pass. Tis a damn shame that New York won't be one of the leaders in making it happen.
Severely disappointed,
All Things Jennifer
PS. Not that it matters now, since you did find the time to vote on this topic today, but I would've preferred having the onion as my state vegetable: something that stinks, burns the eyes and makes you cry—yep…spot on.
For being a political junkie of sorts I've been quite disconnected to the upcoming election. Ignoring the Washington Post and NY Times. Trying to hide under a rock over the social ignorance of a certain candidate from Buffalo…you know the drill.
Plus, what's all this restoring sanity nonsense? Once upon a time I enjoyed the fake news of Jon Stewart however comma that magic wore off years ago when his ego exploded.
Of course, I'll be voting. I vote every.single.year. But I might be writing in All Things Jennifer for Governor. (Or going Green.)
And yes, I will be tied to the returns OF COURSE despite not paying attention all year. I hear a certain Speaker of the House might be knocked down a few notches.
Carl Paladino the Buffalo Ba-zillionaire is the NY State Republican Nominee for Governor.
Gregory Edwards the Chautauqua County Executive (and a graduate of my Alma Mater Allegheny College) is the NY State Republican Nominee for Lt. Governor. (Not Carl's choice, but um…yeah.)
Hello! That would be an ALL WNY REPUBLICAN PARTY TICKET.
And Bob Duffy the Mayor of Rochester who is Andrew Cuomo's running mate for Lt. Governor on the D side.
Also, thank you to a kind reader David for bringing this to my attention…SYRACUSE!
"Don't forget Howie Hawkins, Syracuse resident and New York Green Party gubernatorial candidate."
Either way we choose, WNY will be representin' in Albany.
Oh. My. God.
Carl Paladino is the Republican Nominee for Governor of New York.
Paladino Wins Republican Primary for NY State Governor
Wow. I envisioned a much closer race. Just like everyone else in the State.
I mean Lazio is a weak candidate, but these numbers…um. Well. Color me crazy, but after tonight I'm actually imagining the possibility of Republicans winning this race in November. Crazy. Crazy could prevail. Cuomo has a long few weeks of crazy ahead…I'm sure Mr. Paladino will bring it. And then some.
It's a Mad, Mad, Mad, Mad (Crazy) World .
At least for the NY State Republican Party.
Whod'a thunk it?
Paladino steamrolls to stunning upset
As he entered the race in April, he was universally considered a long shot. He was a one-time Democrat who had never before run for public office, was little known outside his Western New York base, and had a penchant for making outrageous statements.
And Erie County? 93% of the party voted for Carl? REALLY? Hot damn.
Um. Understatement.
Paladino Stuns N.Y. G.O.P. With Victory
The victory for Mr. Paladino may also unnerve centrist Republican candidates around the country who are running in states with far less liberal views than New York.
Carl Paladino's Controvertial Statements Could Embarrass Republicans
Carl Paladino — a millionaire developer who has acknowledged forwarding racist and sexist emails, who has proposed turning empty prisons into dormitory space for welfare recipients, and whose state party didn't even want him on the ballot — has won the Republican gubernatorial nomination in New York.

Paladino's victory looks like more bad news for a weakening Republican party in New York – and good news for Democrats who now have a potent symbol to feed their preferred narrative that Republicans are too far out of the mainstream for most Americans.