You are currently browsing the tag archive for the 'Sabres' tag.
However…
Ugh. Screw you Pittsburgh Penguins! And NHL officials. Unfair freaking-Ovechkin-lovin-punks!
A few observations from the game last night…
1. As Lil Brother asked me "have you been to any games where the Sabres won this year?" Um…yes. ONE. ONE LOUSY GAME. Considering there is something like 2765 hockey games per season one would HOPE this statistic was more in our favour. But alas.
2. That loss felt like a football game loss. I mean I was QUIET and FUMING and MAD. Danger, I really can't afford to be like this over another Buffalo sports team…heartbreak.
3. Crosby. Hot. And he only played what like 4 games this season? Where's the SAINTS BOUNTY SYSTEM IN HOCKEY WHEN YOU NEED IT?! Only kidding…Pittsburgh is gonna win the cup this year. </enough>
4. We have gone from a family of ZERO hockey jerseys to 6. Gerbe (home) Stafford (away) Weber (home) Weber (away) and thanks to the 40% off Fan Appreciation Sale last night Enroth (3rd) and Stafford (3rd). Yes, I went with another Staffy, but the one I have already didn't have the pretty A!!! I blame/thank All Things Sabres Jersey Consultant, Tom Lillis.
5. Cowbell. Awesome idea Jeff Bloss! Although not sure the fans around us thought so…
6. While everyone else was dreaming of the MegaMillions last night, we were just hoping for the Fan Appreciation 50-50. Not a chance. We do however now have several tickets good for free breadsticks if anyone is interested.
HWMMS and I went to the FN arena last night to watch the Sabres, it had been a while. See here we are happy and full of hope waiting for the Metro.
Aw, Happy Valentine's Day to you too Buffalo Sabres!
One good thing about your team not doing all that well and having a game on Valentine's Day is…you can find front row Club Seats at a VERY GOOD PRICE and have servers bring you drinks at your seats. Which you will need, because your TEAM CAN'T SCORE ANY POINTS.
But as the sign says above me  "anyone can get lucky" let's hope for the best!
Or let's take pictures of HWMMS kissing licking my forehead…
Good seats. Good company. GOOD GOD WHAT HAS HAPPENED TO THE POTENTIAL OF THIS TEAM FROM THE BEGINNING OF THE YEAR TO NOW?
Ugh.
As quoted by HWMMS on the car ride home:
"Now is the point of the season where we Sabres fans cheer for the teams we hate so the teams we really hate don't make it into the playoffs."
"The only postgame I want to hear is my foot on the accelerator."
Something to remember this November when we can't seem to 1. win at home 2. win against the worse teams in the league.
Miller feeling better on ice, discounts trade talk off it in wake of rumors
"My comment about my status with the team now is I'm proud to be a Sabre, I'm excited for what we can accomplish moving forward and I want to be a part of it. There's no reason for me to want to leave the situation. We have great new ownership who's excited to put a winner on the ice and I want to be a part of it. For me to want to change that situation and get out, I think the grass doesn't get much greener than it is here."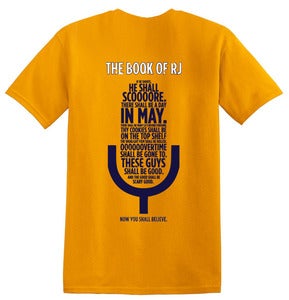 One day only folks!
And if you do buy one and saw it on All Things Jennifer, leave a comment…maybe I can get a free tee out of the deal someday. :)
Yes, it was a distraction to be at the game. But not necessarily a good one.
Not Miller. "Whatever."
Not enough giant beers to make up for those first three goals…(2 in the first 2 minutes? REALLY?)
HOWEVER I did find my very, very, very, very sparkly ring under the arena lighting quite distracting…in a good way.  So that's something right?
He Who Gets Me Hockey Tickets and I have suite seats for tomorrow night…courtesy of a big-wig at his new contract gig. Hopefully the Sabres will pretend they aren't at home and maybe win this one?
Aside: Oh my goodness. As of tomorrow the Sabres will have played 6 home games (you know, not counting the home game in FINLAND) and I will have been at half of them!?! I've become that girl…eegads! And no, there is no possible way I can keep up this pace. Especially when we aren't winning.
He Who Makes Me Smile and I are quite happy with this latest development. And Twitter. Looks like the #FREEWEBER campaign worked!
Wednesday, 11.02.2011 / 12:19 PM
Mike Weber returns to the ice tonight, replacing Marc-Andre Gragnani in the Sabres lineup when they host the Philadelphia Flyers at First Niagara Center (7:30 p.m., Versus).
So happy, he insists he will be buying a WEBER jersey tonight at the game…even though I 'm pretty darn certain you have to special order.
I need hockey today to distract more than I've ever needed it before…
Despite the disappointing loss on Opening Night…I had a BLAST at the Sabres game with my dear friend Karen! I love live hockey! Love! Love! Love!
By far my two biggest Sabres crushes are Paul Gaustad and Drew Stafford. Both had memorable moments in the game. Happy.
The GOOSE is LOOSE!